In Today's Marketplace You Need To Stay Ahead Of Your Competition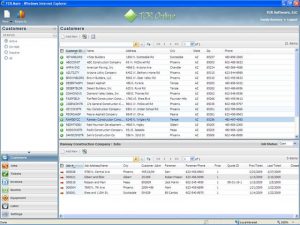 Since the inception of TCR Software we have strived to have the best traffic control rental software program available. We are constantly listening to our customers for suggestions to make our program function more efficiently. Our current system, TCR Online, is very comprehensive and is designed to handle all aspects of a barricade rental company from delivering equipment to invoicing the customer.
TCR Online includes all the necessary input of information in the form of delivery and pickup/return tickets, reports, and invoicing to run your barricade rental business. We can link invoicing details for revenue tracking to your existing accounting software in several ways. Our program was designed by a barricade company so we truly understand all of the special needs this industry has.
Through our marketing efforts and talking with numerous owners, we have found both large and small companies are in need of an efficient, easy to use software program. And since we also found that both types of companies have different individual needs, we are marketing TCR Online in separate modules. Larger companies usually choose to include all of our modules, while smaller companies start out with the Basic System and add onto it as they grow and need the advanced features.
---
Basic Program
You Deserve the Best
The Basic TCR Online program includes the all the necessary features so you can easily setup jobs, track your equipment deliveries/pickups and produce accurate invoices.
The web-based application was designed with a Microsoft SQL database to allow customers to house their data in a very secure, scaleable environment. All versions include user defined equipment; preset equipment kits; unlimited price lists; service tracking; detailed delivery/pickup tickets with special driver instruction forms; interactive driver's scheduling tool; multiple tax rate breakdowns; flexible billing process that generates easy to read invoices; export feature to allow invoices to be carried over to various accounting packages; various sales and other management reports. Users subscribe to TCR Online and pay a small monthly fee thus eliminating a large initial cash outlay and annual maintenance agreements. Also included is online training, on-screen help, 20 hours of phone, email and remote support per year.
---
Labor Tracking Module
Eliminate Your Employees "Milking the Clock"
Keeping track of labor is an essential part of every company's bottom line. Our labor tracking module allows you to know where your employee was during his entire work cycle. An employee's time can be separated between time in the office in between jobs, time loading vehicles, time driving to a job, time on a job, etc. All of this is done by using a simple coding system. This tracking system allows management to easily see where time is being wasted thereby streamlining labor activities and saving money.
Labor cost reports are available and based on the driver's hourly rate, or if on a certified job, the rate associated with the job. These reports are helpful in determining profitability and assists in future quoting.
You have the ability to track the time drivers spend on certified jobs and quickly report these hours by driver or by job. With the information added to the daily trip sheet, you now have all the information necessary to key into your payroll program.
---
Equipment Tracking Module
Tracking Equipment Made Easy
Knowing where your large ticket items are at any given time is very important. This module will allow you to track your large equipment items such as message boards, arrow boards, light towers and generators. Each of your larger items has a serial number or you can code them with your own tracking numbers.
It doesn't seem possible, but sometimes these large items get misplaced or lost. This tracking method will help you keep track of these valuable items. Various reports show where an item is currently and a history of where it has been. You can track its usage percentage by month or any given date range. Tracking of Lost Inventory is also included in this module.
---
Quote/Bidding Module
Many Jobs Start with a Quote. Lets do it the Easy Way
From our Quote Module you can generate a new quote (bid) for an upcoming job with all of the information already existing in TCR Online. It doesn't matter how simple or complex the job is our Quote Module will handle it all. When creating a new quote you have the versatility to start from scratch or use an existing price list/quote and just make the appropriate changes.
Once a quote has been created, you can easily edit the quote if necessary. When the quote is finalized you can send it to your customer via a PDF file and email the quote directly or print a hard copy to fax, mail or present in person.
When the quote has been awarded you can quickly convert it to a job and create the first delivery ticket based on the equipment you quoted. Linking the quote to a job allows for comparisons of what was quoted to what was actually delivered and billed.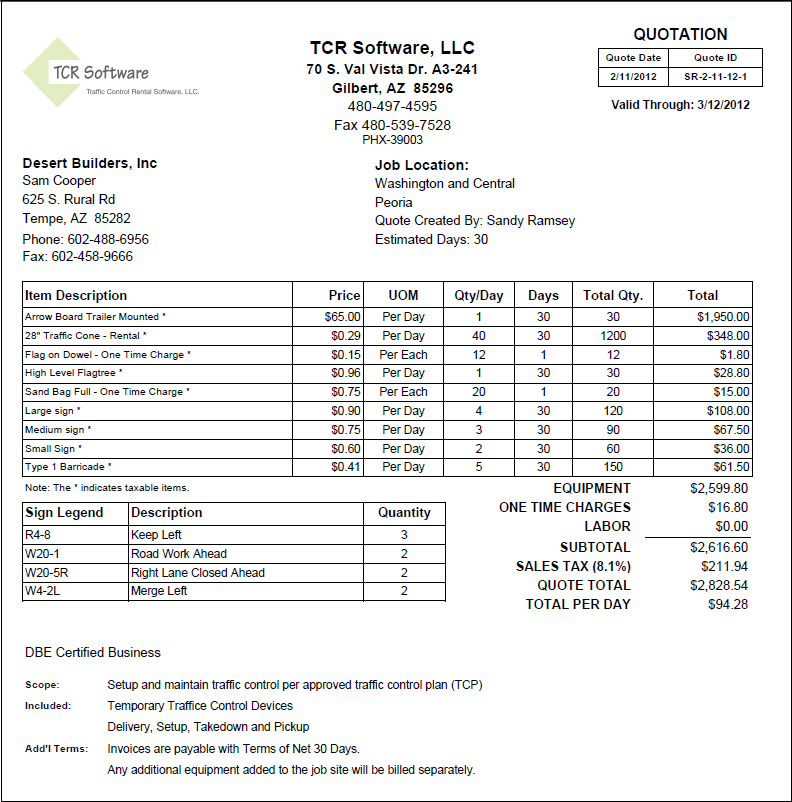 ---
Customer Portal Module
Allows "Your" Customer to View Basic Job Information
By using the Customer Portal, your customer will be able t log into a different version of TCR Online to view information about their jobs. Their unique login allows them to see only their jobs and tickets, and not any of your other customer's. Not only will they be able to view what jobs they have currently open, view their tickets, see reports about what equipment they have currently on site, but reprint an invoice. They can even add a new job or new ticket.
In order to protect the integrity of your data, any new jobs or tickets entered through the Customer Portal are held in a 'pending' status until you 'accept' them. Only at that time are they assigned a job or ticket number and combined with your other TCR data. Your customer can add in basic information about a job (RLC N/B on East Main, Tuesday at 9:00am) or enter in a complete list of items needed. When new jobs or tickets are entered via the Customer Portal, there will be a new icon at the top of your main TCR Online screen that alerts you to their requests.
1-Minute Video: TCR Online Customer Portal
---
TCR Mobile App for Drivers
Increasing Efficiencies
The TCR Mobile App is designed for drivers to use in the field to complete their tickets electronically, essentially doing away with paper tickets. The simple design allows drivers to record the start/end of their shifts/breaks, add misc. time spent in the yard or loading the truck as well as complete tickets.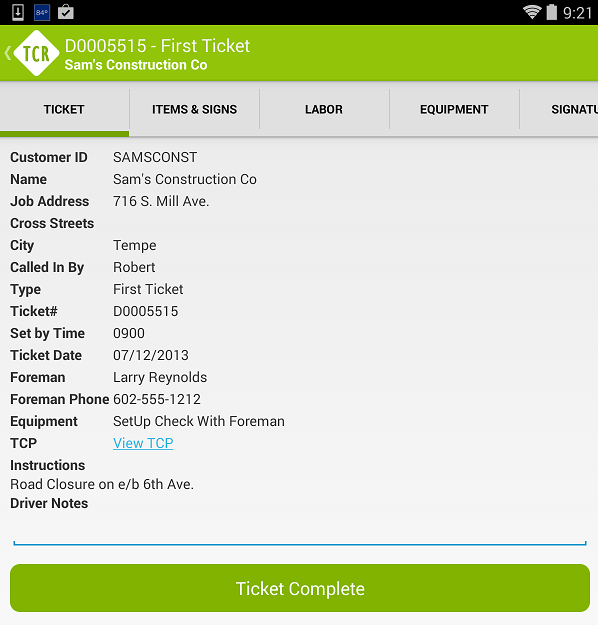 Each ticket has all the same information as a printed ticket and provides the driver with the ability to enter in quantities of equipment delivered or picked up, add items to the ticket, enter labor on the job, record the equipment code for the large ticket items (i.e. arrow boards), take picture(s) of the job site and even get a customer signature.
When the ticket is completed, all of the information is immediately available in the main TCR Online program for your staff to review prior to billing.
---
Hardware Requirements
Modern Technology Creates Great Business Solutions
The web-based TCR Online program was developed using the latest technology to allow more flexibility and greater accessibility than the original Access based program. TCR Online uses a powerful and secure Microsoft SQL Server database to store the data and Internet Explorer Version 9+ browser to access the application. The web-based interface uses HTML, JavaScript and XML to produce a Windows application look and feel. The application layer is implemented in ASP.NET with Visual Basic .Net as the programming language. We have contracted with Amazon Cloud Services, a top hosting company in the country, to manage our dedicated server where your data will be stored.
Besides a top of the line server, we have 24/7 monitoring and support, managed backups and high speed data transfers. Their data centers have state of the art technology and have well established security policies in place. You can rest assured that your data is safe and available to you at any time. With TCR Online, your only concern regarding hardware is that each workstation (Client) accessing TCR Online has the proper equipment listed below. There is no need to worry about servers, networking or data storage.
Operating System – Windows XP; Windows Server 2003; Windows Server 2008; Windows 7; Windows 8
Processor – 1GHz Pentium processor or equivalent
RAM – 1 GB or more (some operating systems might require more)
Hard disk – Minimum 2 GB of available space
Internet – Reliable Internet connection
Web Browser – Internet Explorer 9 or higher
Report reader – Adobe PDF Reader